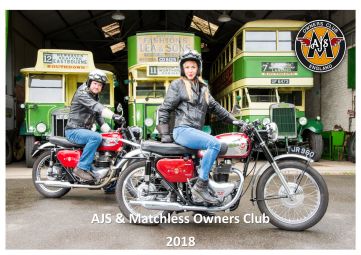 A special price of £6.00 per calendar is available for anyone able to get to one of the UK shows where the club has a stand or who visits our Kettering Head Office.
The 2018 calendar shows off the magnificence of our AMC machines..
Place your order now, online - be quick while stocks last...
Click here to place your order
Orders can be taken and paid for with your credit/debit card using our Paypal system - you don't even have to have a Paypal account, so it's quick and easy to do.
Also, you don't have to be a member of the club, but if you have already logged into this website your address details will be automatically filled in to save you time.
We are very happy to supply Calendars to non-members as well as our membership!
Destination
Price
UK Mainland
£10.00
Europe
£11.00
Outside of Europe
£11.00
All prices include P&P