AJS & Matchless Owners Club Grand Draw 2018
WIN 1957 AJS 600cc special
2nd prize: New AJS Tempest Roadster 125cc courtesy of AJS Motorcycles Andover plus up to £250 free insurance donated by Bikesure Insurance
3rd prize: Voucher for £100 for AMOC spares
4th prize: 1 year subscription to Classic Bike Magazine
5th prize: 1 year membership of AJSMOC

Winners of the 1st and 2nd place prizes will have to make their own arrangements to collect the bike from our office in Kettering, Northamptonshire, England.


2nd prize: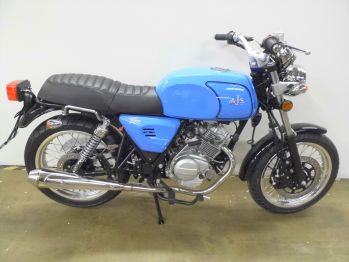 Tickets £1 each. Draw will take place on 07-Oct-2018 at the Copdock Bike Show at Copdock, Suffolk.
Online ticket sales will close on 20-Sep-2018.


This years winners are:
1st Prize - A Wood
2nd Prize - I Western
3rd Prize - M Malkinson
4th Prize - J Wardle
5th Prize - M McMullen

Congratulations to this years winners!
Watch out for the 2019 raffle....